P. Njue and E. Otara: We proudly join you in celebrating your masterful achievement
This is a special message dedicated to Ms Priscilla Nyaguthii Njue and Ms Elvin Nyaboe Otara from the Department of Agricultural Economics and Extension who are among the postgraduate students who were accorded the privilege of receiving their respective masters degree certificates from the Chancellor of the University of Embu. Once more we say, Ms Njue and Ms Otara, "Congratulations on earning your Master's degree on this 15th day of September 2023. Your hard-work and dedication have paid off, and your future is filled with endless possibilities. Well done Ladies."


Ms. P. Njue is a young dedicated researcher and prolific writer now with a Master's Degree in Agricultural Economics with a focus on livestock production systems. Graduating with a master's degree in a record of 2 years is a testament to Ms Njue's passion, dedication, and unwavering commitment to making a difference to the agricultural industry especially as a vehicle for promoting community-led growth, food security and nutrition and resilience. Ms Njue's academic journey has been one of growth and knowledge accumulation, and her expertise in this specialized field will undoubtedly have a profound impact in the field of agriculture. Her pursuit of excellence in livestock production systems demonstrates Ms Njue's forward-thinking approach to addressing critical issues in the agricultural sector in respect to stimulating transformation, equity and social inclusion in development. Her ability to analyse economic trends, optimize production processes, and enhance sustainability within the livestock industry is commendable. As Ms Njue embarks on this new chapter in her career, we have no doubt that she will continue to be a driving force for innovation and positive change in the livestock sub-sector. Ms Njue's accomplishments will certainly inspire many of our students who are taking masters programmes in the Department. Her publications in this area will go a long way in informing policy and planning at county, national and regional levels (https://doi.org/10.17170/kobra-202302217524). We look forward to witnessing Ms Njue's continued success in shaping a more sustainable and prosperous future for our agricultural/pastoral communities." Welcome back to the Department for a PhD programme in this critical area.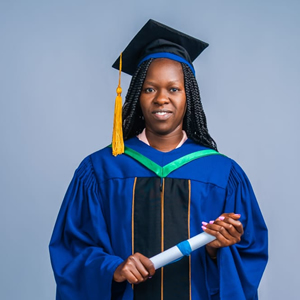 Ms Elvin Nyaboe Otara, has keen interest in regenerative agriculture particularly in the drier areas. Ms Otara has a written powerful statement on her passion for sustainability, environmental stewardship, and the future of farming in this rapidly varying and changing climatic conditions.  She has demonstrated innovative, affordable and sustainable approaches of restoring soil health. Her dedication to advancing this vital field is truly inspiring and holds the promise of brighter, more sustainable agricultural landscapes not only in Kenya but also in the continent. Ms Otara's expertise in regenerative agriculture not only showcases her deep understanding of the complex relationship between agriculture and the environment but also underscores her commitment to fostering resilience in our shaky food systems. Ms Otara's innovative research and dedication to sustainable farming practices as demonstrated through her various publications and contribution to scientific knowledge in the area (https://dx.doi.org/10.4314/jae.v27i1.1) will undoubtedly serve as a beacon for others in the agricultural sector who seek to harmonize production, productivity, resilience, equity and ecological health and hence make a contribution to SGDs 1, 2 and 13. As Ms Otara scales up the ladder in her career path, her contributions to regenerative agriculture will be monumentally instrumental in promoting a more sustainable and eco-conscious approach to feeding our growing global population. As a Department, we have no doubt that Ms Otara's future endeavours will continue to make a positive impact in our region, and we are excited to be associated with her forthcoming achievements given her passion and knowledge in this unique field." Welcome back to the Department for a PhD programme in this critical subject matter